Ok gang, while I'm waiting for the blog update, I'm going to run a big contest and give away 10 ARCs of Sweet Seduction. AND I'm posting a new excerpt behind the jump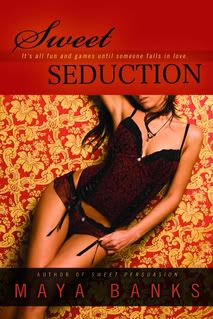 He was the stuff erotic dreams are made of
Salon owner Julie Stanford wanted Nathan Tucker ever since she gave him his first massage. Getting paid to feel every inch of his body, stripped, oiled, and spread out in front of her? Stuff dreams are made of. But the sexy lug was oblivious to the signals she was sending—until she finished off his final rub-down with something extra. In fact, the best extra he ever had. Unfortunately, he came around too late. Now Julie's moving on…
She was everything he'd dreamed of
The woman was driving him crazy. She lit fire to his insides then ran like a scalded cat. And now she's going to someone else to have all her fantasies fulfilled? Over his dead body… He's more than willing to give her what she wants, and as soon as he pins the little minx down, he'd show her his own brand of sweet seduction.
Excerpt and how to win behind the jump!
"Just how hung up are you on Julie Stanford?" Micah asked Nathan as they sat down at Cattleman's to eat lunch.
"What the fuck kind of question is that?" Nathan demanded.
It was bad enough that Julie had completely messed with his mind, but now he was fielding comments from the guys about how fucked up he was over the woman.
"It's a simple question," Micah said calmly. "Either you are or you aren't."
"Nothing is simple when you ask it," Nathan grumbled.
"So?"
"So fucking what?" Nathan snarled. "Give it a rest, man. You know what happened. If a gorgeous woman came on to you, sucked you dry and then off, what the fuck would you do?"
Micah grinned. "Toss her over my shoulder and lock us in a room for a week?"
"I'm tempted. If I could find the wench."
"I just happen to know where she'll be this weekend," Micah said casually.
Nathan pinned him with a stare. "And how would you know that?"
Micah smiled. Smug bastard. "I have my ways."
"Cut the crap, will you?"
Micah gripped his beer bottle and tilted it back, taking a long swig. When he lowered it again, he looked long and hard at Nathan. "There's a reason I'm asking how hung up on her you are."
"And that is?" Nathan asked.
"Because apparently she's serious about leaving you in her dust."
Nathan snorted and downed the last of his beer. "Tell me something I don't know."
"I wouldn't even tell you this because I usually side with the women, but I think you have a thing for her."
Nathan blew out his breath in irritation. Nice to know he was so fucking transparent. But how transparent could he be if Julie hadn't even figured it out? Hell, she thought he'd spent the last few months ignoring her. As if any breathing man could ever not notice that woman.
"Yeah, maybe," he said grudgingly.
"Well, she's hooked up this weekend for some hot, anonymous sex at Damon's place. And the following weekend as well."
Nathan's jaw dropped about the time the beer bottle fell out of his hand and hit the floor.
"What?"
Micah eyed him cautiously, and maybe he did look a little deranged. He couldn't very well act calm, when he felt like a volcano about to erupt.
"Run that by me again," Nathan growled. "Use short words. Don't leave anything out. What the fuck is she doing at Damon fucking Roche's sex club?"
Micah snickered. "I wasn't even sure you had any idea about The House."
"I wouldn't if I hadn't overheard you and Gray talking about the time he hauled Faith out of there. Faith for Christ's sake. If I had any inkling she was wandering in there, I would have snatched her out by her hair. I can't believe Damon allowed her in there. I know he's your friend, but that was ridiculous."
"Maybe Faith isn't the innocent you like to make her out to be," Micah said in amusement.
Nathan glared at Micah. "We're talking about Julie, remember? And I sure as hell don't think she's innocent, but I damn well don't want her fucking some stranger with Damon's blessing either. What the hell is he running, some kind of pimp service?"
"Look, I'm not telling you this so you can stop it. Last I checked you weren't Julie's keeper, and I doubt she'd allow that anyway." His lips twitched as he obviously fought laughter. "But Julie's request was for anonymous sex. She wants to be blindfolded. Do you see an opportunity here?"
Nathan stared at Micah in stupefaction. "Blindfolded? Has she lost her damn mind? What's to stop this joker from hurting her?"
"Jokers," Micah corrected.
"What?"
"There's more than one."
Nathan's fingers curled into a fist. "You're shitting me. You're doing this to yank my chain, aren't you?"
Micah licked his lip as he struggled with his composure.
"And would you quit laughing at me already?" Nathan demanded.
Micah dropped his head and laughed. He laughed so hard that tears were streaming from his eyes. Nathan wanted nothing more than to kick his ass.
"I'm not shitting you, man," Micah said as he gasped for breath. "She wants hot sex with more than one guy. She wants to be blindfolded but not tied up. She wants the fantasy of anonymity."
"Fuck me," Nathan swore. "That's going to happen over my dead body."
"Oh? And how do you plan to stop it? Damon's not going to let you within a mile of The House if your plan is to barge in, fists swinging. He runs a very civilized place."
"Civilized my ass. What's civilized about treating women like pieces of meat?"
Micah raised an eyebrow. "Knowing what you know about me, do you honestly think I would have let Julie walk into that kind of situation if I didn't know for sure that Damon would take damn good care of her?"
Nathan leaned forward. "And I'd ask what the hell business of it is yours what Julie does or doesn't do."
"She's a friend of Faith and Serena's. I'd look out for her just like I do those two," he said evenly. "What business of it is yours? Why do you care, Nathan?"
"Fuck you," Nathan muttered.
"Admit it, you care. It's eating you alive to know that she's going to be fucking some other guy this weekend when you're dying to get into her pants."
"It ain't going to happen," Nathan said belligerently.
"What, you getting into her pants?" Micah asked.
Nathan turned up his middle finger at Micah. "What ain't going to happen is her having anonymous sex with some goddamn stranger."
"And you plan to prevent this how?"
Fuck if he knew. He didn't know this Damon guy as well as Micah did, but Micah could fix that, couldn't he? And hell, if she was that bent on having anonymous sex, he could be as anonymous as the next guy.
A slow grin spread across his face. That was it. He'd exact a little payback for the way she'd played him in the salon with the added benefit of not letting her fuck another man. She wouldn't need another guy when he finished with her.
"I'm not liking the look on your face right now," Micah said warily. "You only get that look when you're plotting. Usually against me."
"I think we should have a beer with your buddy, Damon," Nathan suggested. "Like tonight."
Micah grinned. "I thought you might see it my way."
"Your way? How the hell is this your way? If we did things your way, Julie would be fucking some weirdo at Damon's sex club this weekend."
"Why do you think I told you about it, moron?" Micah said as he motioned for another beer. "And I'm way ahead of you, man. Damon's supposed to meet me here in an hour."
.
.
Ok so here are the rules and all the fine print. Contest is open to all entries, International entries included. To enter drop me a comment. I'll choose 10 winners next Tuesday. Now here's the important part. I'll post the winners on Tuesday. You have until the following Saturday, midnight CST to email me to claim your ARC and provide mailing address. If I don't hear from you by then, the ARC will be given to someone else.
.
.