Edited to Add: I have my hands on a few more copies, so I'm going to up the ante here to THREE copies. I'll give away copies to three readers and I'll get them in the mail so guys get them no later than the end of this next week.
It's become a tradition to give away my very first copy of my HEAT books, and since I got a couple in the mail yesterday, I'll give the following copy away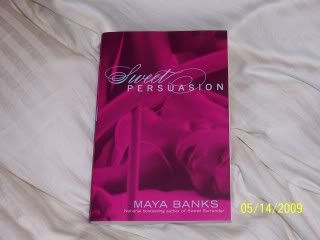 Don't screech at me when you get the book and it doesn't look quite as pretty and shiny as it does on screen. I'll lament that fact right along with you. I don't like the paper quality of HEAT covers at all. I'm a total paper snob. Particularly since hubby's company makes the really nice high quality SHINY stuff like what comes on the Samhain covers. I don't even like the actual paper the pages are printed with. It's sorta cheap feeling, and if you've ever read a HEAT book, you know where I'm coming from.
Anyway off my tangent :sumo: Here are the rules and blah blah associated with this giveaway. Today is Friday :banana: I want to mail this puppy on MONDAY because dude, I have lots of other stuff to mail because my post office sucks ass and they are constantly losing crap, so I have replacement packages to mail and I need to get them out and well if I wait any longer, you won't be getting Sweet Persuasion early at all, which is the whole point of this contest.
So if you enter this contest, be prepared to come back on Sunday or even early Monday morning to see if you won. I won't track you down. You have until then to claim the book and if you don't I'll draw another winner and I'll do this until someone comes forward quickly.
I'll ship priority so you'll have the book in hand no later than the end of next week. Sound fair?
Okay, now to the good stuff. Just tell me WHY you want this book early and you'll be entered to win it.
Have a great weekend!