ok so we've been looking at my new gorgeous covers *g* And I do love gorgeous covers. And it just so happens that in about a week, Jaci Burton has a new release that also has a really gorgeous cover! So I thought I'd give you guys a chance to win a beayoutiful book to pet, and covet and call George (or Georgette) whatever your preference :)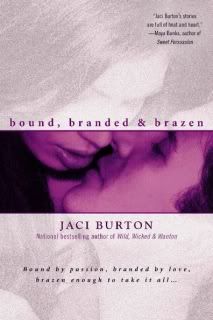 Bound, Branded, and Brazen
Bound by passion, branded by love, brazen enough to take it all…
In the wilds of Oklahoma, three sisters have a hot date with destiny. Valerie, Brea, and Jolene McMasters reunite on the family ranch that should have been called the Bar Nothing…
Bound…
When Valerie left for the big city, she kissed her foreman husband, Mason, goodbye—along with the best sex she ever had. Now, seeing him brings back sizzling memories. But their rekindled fire threatens to burn them both.
Branded…
Watching Gage wrangle untamed horses with a gentle but firm touch leaves Brea hot and bothered. But can she live out her fantasy with a man who may ask more than she's willing to give?
Brazen…
Ranch hand Walker Morgan can't afford to lose his job by getting too close to his new boss, Jolene, no matter how much she tempts him. But Jolene's prepared to take the first step, because what Jolene wants, Jolene gets. And Jolene wants Walker.
Sounds yummy, no?
Now on to the good stuff!  I'm going to give away two copies, which you'll receive as soon as Amazon will ship them to you :) To enter, tell me the  name of the last book you RE-READ. Now if you don't ever ever reread a book (gasp!) I supposed you can get away with telling me what was the last book you read…
.