So guys, here's the deal. Carly and I both have books releasing on the same day. Destiny and Whispers in the Dark. And we thought it would be fun to give you guys a chance to win an advance EARLY copy of our books. I'm going to give away an ARC of Destiny right here on the blog and to accompany it, a 25.00 gift certificate to your choice of BN or Amazon just so you can do a little book shopping on the big Black Friday weekend from the comfort of your own home, in your jammies, on your couch :) Who needs crowds to shop anyway?
Here's more about Destiny!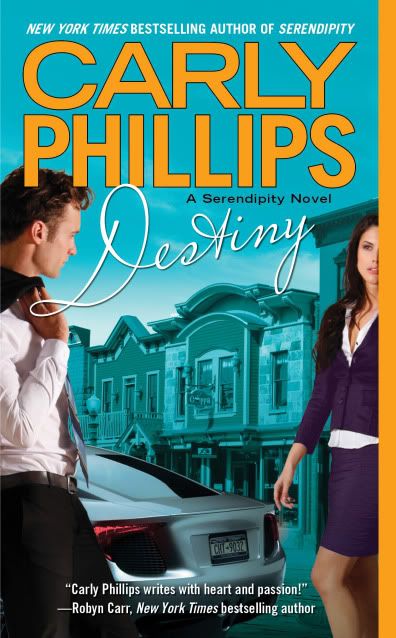 From New York Times bestselling author Carly Phillips comes her second novel set in Serendipity, the quaint upstate New York town where love, fate, and fortune are intertwined…
Nash Barron may be cynical about love, yet even he likes a good wedding. But the only good thing about his brother's wedding is Kelly Moss. Nash can't help but admire her confidence and beauty, but he's forced to keep his distance because getting involved with Kelly could destroy his relationship with his newly discovered half sister, Tess…
Kelly came to Serendipity to give Tess–her half sibling as well, thanks to an illicit affair–a second chance at life. She learned long ago not to rely on anyone but herself. Besides, she doesn't want to upset Tess's life by pushing for a fling with Nash. Except the more she gets to know him, the more vulnerable she becomes to the kindness beneath his gruff exterior, and the less she's able to stay away. But she has other reasons for keeping her distance. Like the secret from her past she knows Nash will never forgive…
AND as a special treat for you guys, here is an exclusive excerpt you won't see anywhere else!
———-
Kelly couldn't get out of the bar fast enough. No sooner had she found out that her new best friend had once been married to Nash, than she'd had to watch him fawn over Annie and worry about her welfare. The jealousy had bitten her hard and she hated everything about the situation she suddenly found herself in. Kelly had had enough of awkward triangles to last her a lifetime.
Once in the parking lot, she looked for her Ford Fiesta and realized she had the bad luck to be parked beneath a broken light. Instead of emitting a steady glow, the light flickered and she fumbled for her car keys inside her purse. Finally she pulled them from her bag.
"Kelly!"
Startled, she dropped the key chain on the floor, Nash's voice taking her off guard.
"Why did you run out?" he asked, coming up beside her.
"I already told you. I needed air."
"Why?" Little lines of disbelief crinkled around his eyes, making him even more sexy than usual.
She tipped her head to one side, wondering why he was questioning her over something so trivial. "Because it was hot in there. Why else?"
"Because you just found out that Annie and I had once been married."
"Well you don't pull any punches, do you?" she asked, embarrassed.
He propped an arm on top of her car. "Not when it comes to something … or someone I want." His hot, serious gaze bore into hers.
At his words, the air left her lungs in a rush, his implication clear. "And since when do you want me?"
He laughed suddenly. Not a light chuckle, but a deep laugh that came from someplace inside him she'd never seen before.
"Since when I have I not wanted you?" He reached out and grabbed a strand of her hair, twirling it between his fingers.
The pull was strangely erotic and she felt the tug low in her belly. She swallowed hard and licked her dry lips. "Maybe I should rephrase. Since when have you wanted to act on it? Just last night we agreed we can't go anywhere because of Tess."
He nodded. "And I've done nothing but think about Tess since." He paused. "But this thing between us. It's electric and undeniable."
His husky voice sent tremors of awareness darting through her veins.
"Are we really going to let a fourteen year old dictate how we act?" he asked.
Kelly blinked, stunned not just by his change of heart but at the rationale behind it. "I hadn't thought of it that way."
"Neither did I until Dare pointed it out." An embarrassed grin lifted his lips.
"You and Dare talked about me?" God, could this night get any more mortifying?
He shook his head. "We talked about us." He gestured between them. "Don't forget Dare's the one who interrupted last night."
"Don't remind me," she said on a groan.
"He's also the one who made me see reason. I mean, what he said about not letting a fourteen year old dictate our decisions makes sense."
Kelly nodded slowly. "It does," she agreed. "Unfortunately it doesn't change the fact that nothing more can happen between us."
He blinked, obviously stunned. "Why not? We're both adults. We can trust ourselves to act like it before, during … and after things end."
Well that was an optimistic summary, she thought. But at least he was honest – he'd be looking for something short term. So would she. If she allowed herself to get involved with him. Which she wouldn't.
"I've already been through a relationship with someone who swore their marriage was over and there is no way I'll put myself through that again." She folded her arms across her chest, protecting herself with her words and her actions.
Nash placed his hand on her shoulder. She tried to step out of reach but her back hit the car. She couldn't go far and he liked having her in his personal space. "Annie and I are divorced. She's the one who initiated the damned thing. Trust me, she won't hold it against you if you're with me," he promised Kelly.
Was the man obtuse? "Exactly my point! She may be over you but you're not over her. All any observant person has to do is watch how you treat her and it's obvious you still have feelings for her."
"Of course I care. She's sick and she needs a friend who's aware and who understands. But that's all we are. Friends," he insisted. "Platonic friends."
"Nash – " Kelly held out a hand to keep a barrier between them.
"Kelly," he mimicked gently. "You and I are nothing like me and Annie." He thread his fingers through hers, slowly raising her body temperature. "Not once did Annie and I ever generate heat like this."
Before Kelly knew what hit her, he'd pulled her forward. Her chest collided with his and their hips pressed together intimately. She found herself locked between his waist and the car, the hard ridge behind his jeans deliciously obvious and her body responded, melting for him. Molten liquid fire flowed through her veins.
Heat exploded between them and he sealed their lips firmly together. He was hungry, his mouth nibbling on hers, tasting, demanding until finally he slipped his tongue between her lips. She moaned and wrapped her arms around his neck, enjoying the sensations. Knowing this was all she could take from him, she eased her fingers through his hair and let him deepen the kiss. After all, how far could they go in a parking lot, but as she wondered, her stomach curled with growing need and an awareness of wanting more.
Which made her regretfully pull back. "You're right. We're explosive," she murmured. "But you're still emotionally connected to your ex which puts you off limits for me."
Still shaking, she knelt down, picked up her keys and over his argument, unlocked the car, opened the door and slid inside.
"I'm stubborn," he told her as he helped her shut the door.
Then she'd just have to be more obstinate than him.
————
Here's all the ways you can learn more about Carly and her books!
website – http://www.carlyphillips.com
Facebook – http://www.facebook.com/CarlyPhillipsFanPage
Twitter – https://twitter.com/#!/carlyphillips
Now for the important stuff. How to win! Just leave me a comment to let me know you want the book! To sweeten the pot a little, let me know what book you're currently reading. I'm always looking for book recs! I'll leave the contest open until Tuesday morning. That's November 22. Winner will be posted here on the blog so be sure to check back to see if you win!
And also, Carly is hosting a giveaway on her blog and giving readers a chance to win an advance copy of WHISPERS IN THE DARK, so be sure to hop over, visit her and enter for your chance to win there :))